Counties & Cities
>
Allgäu - Bavarian Swabia Counties
>
Donau-Ries County
>
Donauwörth
---
Hotels/Accommodation: no business registered - register your business - vicinity search
Food & Beverages: no business registered - register your business - vicinity search
Nightlife/Scene: no business registered - register your business - vicinity search
Shopping & more: no business registered - register your business - vicinity search
---
Donauwörth
Welcome to Donauwörth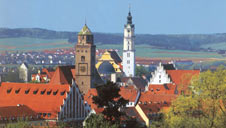 Right in the middle of Germany's famous holiday route - the Romantic Road - at the confluence of the Wörnitz and the Danube - that is where Donauwörth is situated.
Due to its central location Donauwörth not only became an important traffic junction in the Swabian region but also a very popular tourist destination and in addition to this an ideal starting point for trips and sightseeing tours to its enchanting surrounding.
Five different types of landscapes around Donauwörth are waiting to be discovered: Ries, Nature Park Altmühltal, Kesseltal, National Park Augsburg Westliche Wälder, Danube/Lech Area.