Counties & Cities
>
Upper Bavarian Counties
>
Garmisch-Partenkirchen County
>
Ettal
---
Hotels/Accommodation: no business registered - register your business - vicinity search
Food & Beverages: no business registered - register your business - vicinity search
Nightlife/Scene: no business registered - register your business - vicinity search
Shopping & more: no business registered - register your business - vicinity search
---
Ettal
Welcome to Ettal
The Climatic Health Resort of Ettal with its Neighbourhoods of Graswang, Linderhof, Rahm, and Dickelschwaig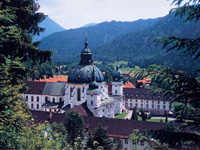 Located in quiet, yet central surroundings, in and around Ettal you'll find a broad range of choices for day-trips and sightseeing: The great abbey of Ettal, the royal palaces of Linderhof and Neuschwanstein, the famous passion play village Oberammergau, and many more.
An extensive network of cycling and hiking paths makes it an ideal place for sports enthusiasts of all ages, for vacationers looking for peace and relaxation or for activities and fun.
Culture aficionados should make a note of the Ettal Summer Concerts in its basilica. But winter has its own charm, too: Whether you discover the land on cross-country skis, on foot, or comfortably in a horse-sleigh – everything is possible here.