Vacation Regions
>
Franconia
>
Franconian Hills
>
Highlights

Highlights of the Franconian Hills
The Golden Route
Emperor Charles (Karl) VI (1316-1378) wanted to connect Nuremberg and Prague with a route that only covered Bohemian territory. That is why the routing was exactly detemined: Nuremberg - Lauf a.d. Peg. - Hersburck - Sulzach-Rosenberg - Hirschau - Kohlberg - Weiden i.d. OPf. - Neustadt a.d.Waldnaab - Bärnau - Tachau - Haid - Mies - Pilsen - Karlstein - Prague.
The Golden Route as a commercial road brought wealth, both to the towns and villages it passed and to the regions it connected. The splendidly developed historic centers still bear witness to that. The route was also meant to provide safety for the travelers, instating escorts for that purpose.
This historically grown merchant route invites its visitors to go hiking or biking, and to visit the sights of all those villages and towns along the way. The following towns are located next to the Golden Route in the region of the Franconian Hills: Lauf an der Pegnitz, Reichenschwand, Hersbruck, Pommelsbrunn, Weigendorf.
The Fortress of Rothenberg at Schnaittach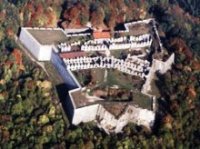 Following the destruction of the old 13th-century castle, Prince Karl Albrecht began constructing Europe's last French Bastion-style fortress in 1929. Its predecessor was a castle of the Wildenstein Nobility, home to 44 knights in 1478. After Bavarian ownership was assumed, the castle was destroyed by Franconian troops during the War of the Spanish Succession.
Between Fuerth, Hormersdorf, and Ottensoos, 63 villages and towns belong to the region of Bavaria-Rothenberg. The town belonging to the castle burned down in 1478; a stone pit was put in its place. The Bavarians built their military camp here well inside the territory of the imperial city of Nuremberg. Following Bavarian King Ludwig I's order the structure was abandoned for budget reasons in 1841, and eventually fell into ruins.
Around 1960, renovation began and continues to this day. The complex can be visited again, and offers great panoramic views as well as proof of the architects' impressive achievement.
It's Time for a Family Trip - From the Bright Open into the Dark Caves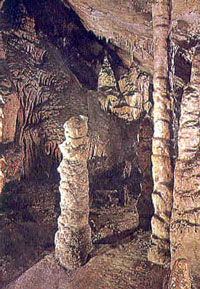 Caves age just like humans do, and eventually they collapse, but before that they can last for thousands of years. No cave is like any other. This world with no light is a world of its own, full of magic and secrets. The treasure chambers of the underworld holds stalagmites and stalactites, but also bones of cave bears, underground water falls, and animals like bats. The trails lead visitors over wooden footbridges through smaller and larger "halls", through gorges and grotto's.

Near by: