Experience Bavaria
>
Scenic Routes
>
German Alpine Road
German Alpine Road
A fairytale tour of the Alps

Driving along the German Alpine Road is an amazing movie-style experience. This is one of Germany's longest-established tourist routes - 2002 marked its 75th anniversary. The German Alpine Road is an exhilarating route full of twists and turns. It covers around 450 kilometres between Lindau at Lake Constance (Bodensee) and Berchtesgaden at Lake Königssee close to the border with Austria. This stunning route offers great variety - lush Alpine meadows, gentle hills, craggy mountain peaks, green forests, romantic valleys and sparkling lakes follow one another in a steady rhythm. Traditional farming villages alternate with historical towns against the majestic panorama of the Bavarian Alps. There are no fewer than 25 ancient castles, abbeys and fairytale palaces to visit. Over 20 crystal-clear mountain lakes offer not only thrilling views but also a wide choice of sports and leisure activities.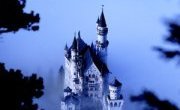 A cycle path running parallel with part of the route enables cyclists to discover the beautiful Allgäu holiday region and put their fitness levels to the test. There are plenty of places to stop en route, including famous historical health resorts and cultural attractions. As the road twists its way along the fringe of the Allgäu and the Bavarian Alps, it opens up a wealth of breathtaking scenery and remarkable natural and cultural riches. You don't have to be a mountaineer to be passionate about the Alps. The area's excellent high-altitude mountain trails are well used by walkers, especially in late summer. The cable cars and chair lifts are also highly appreciated, particularly on the way up. A network of marked footpaths and hiking trails enables visitors to get out into the surroundings and visit local sights, such as impressive castles, magnificent palaces, churches and abbeys. There are plenty choices - something for everyone. So, relax, enjoy the local hospitality and let the beauty, wonders and mysteries of nature work their magic on you.
In this region, local customs and traditions - often of religious origin - are still very much alive. You can still experience the good old-fashioned way of life, including joyful country weddings and colourful local fairs. This is also home to traditional German music, zither ensembles and brass bands. The region's numerous lakes, national parks and countless nature conservation areas are a paradise for holidaymakers and sports fans. There are fabulous facilities for those who enjoy cycling, winter sports or other activities including adventure sports, water sports, wild water sports, rafting, hot-air ballooning and paragliding. The region also offers culture galore, a wide range of wellness breaks and excellent walking terrain with a wide range of flora and fauna. Every season gives the German Alpine region a different hue. In spring it's the fresh new green of the broad-leaved trees; in summer the mountain pastures are in full flower. In autumn the sunlight creates even more intense foliage colours; in winter the whole landscape is covered in a glistening white blanket of snow, like a scene from a landscape painting.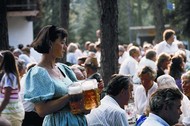 The German Alpine Road and the snow-covered landscape are also delightful in winter. A number of ski areas - varying in size - offer various levels of difficulty. After exertions on the pistes, skiers can enjoy a warm welcome and hearty refreshment at a traditional mountain lodge. On Lake Constance, Lindau awaits with its mild climate, closely packed gabled houses and maze of narrow streets.
After Oberstaufen, Germany's only Schroth health resort, the route reaches Garmisch-Partenkirchen and the Zugspitze, Germany's highest mountain. We then come to Linderhof Palace, a white jewel surrounded by glorious natural colours, Ettal Abbey, where you must try the famous abbey liqueur, Mount Karwendel with Mittenwald, a famous violin-making town, Füssen, Neuschwanstein Castle, idyllic Berchtesgaden, Lake Königssee and the Watzmann peak, to mention just a few of the places you might like to visit along your journey. Along this panoramic route there are opportunities to try delicious Bavarian specialities, both outdoors at a beer garden or at traditional inns – hearty roast pork with dumplings, oven-fresh veal shanks, aromatic cabbage dishes and, last but not least, the famous "Mass", a litre tankard of beer. A spectacular mountain scenery tour along the German Alpine Road is an unforgettable experience.