Counties & Cities
>
Allgäu - Bavarian Swabia Counties
>
Donau-Ries County
>
Harburg
---
Hotels/Accommodation: no business registered - register your business - vicinity search
Food & Beverages: no business registered - register your business - vicinity search
Nightlife/Scene: no business registered - register your business - vicinity search
Shopping & more: no business registered - register your business - vicinity search
---
Harburg
Welcome to Harburg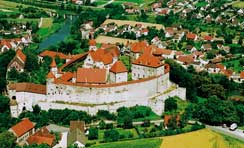 Harburg is a lovely city, steeped in history, and also a great place for living, working, shopping and relaxing. The combination of river, city and castle, the information on free time activities offered, as well as our affordable Swabian cuisine will make you crave for Harburg.
Nature and sport
Sign-posted network of hiking trails, forest studies path, cycle touring, boat cruises and fishing on the river Woernitz, camp site, tennis, sauna, indoor swimming pool, sport shooting, Bavarian curling, ice skating, cross-country skiing.
Culture and tradition
Harburg Castle; historic old town centre, old stone bridges, former synagogue. "Bockfest" with historic tradition, "Brückenfest" (bridges festival).
What the county offers for tourists
Guided tours of the castle and of the art collection it houses.