Counties & Cities
>
Allgäu - Bavarian Swabia Counties
>
Upper Allgäu County
>
Immenstadt in Allgäu
---
Hotels/Accommodation: no business registered - register your business - vicinity search
Food & Beverages: no business registered - register your business - vicinity search
Nightlife/Scene: no business registered - register your business - vicinity search
Shopping & more: no business registered - register your business - vicinity search
---
Immenstadt in Allgäu (Immenstadt im Allgäu)
Welcome to Immenstadt in Allgäu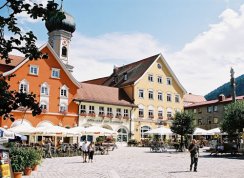 How to get there
A 7 Ulm - Kempten, B 19 and B 308; Railway station: in town; Bus access
Sports and Nature
Kleiner Alpsee outdoor pool (combined outdoor pool and lake bathing); Großer Alpsee = largest natural lake in the Allgäu, water sports à la carte. Signposted nature trail. 40 km cross-country ski tracks; 2 ski centres with 3 chairlifts and 7 drag lifts. Steigbach waterfalls.
Health and recuperation
Holiday dialysis, beauty weeks, fasting weeks.
Culture and Tradition
"Hofmühle" local history museum (with complete flour mill), more than 60 churches and chapels in an area of 82 qkm; castle with banqueting hall, 2 castle ruins. Cattle drive. "Klausentreiben" (old pagan cult) on 5th and 6th December.
Tourists' Specials
Castle hike, mountain hike with visit to cheese dairy. Schlettermoos trail, all-year round package deal bargains, holiday ticket for bus and railway.