Counties & Cities
>
Upper Bavarian Counties
>
Garmisch-Partenkirchen County
>
Murnau
---
Hotels/Accommodation: no business registered - register your business - vicinity search
Food & Beverages: no business registered - register your business - vicinity search
Nightlife/Scene: no business registered - register your business - vicinity search
Shopping & more: no business registered - register your business - vicinity search
---
Murnau
Welcome to Murnau - the artists' town at the fringe of the Alps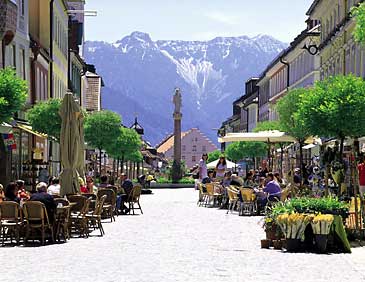 In Murnau nature, art and culture form a special bond. World-renowned artists like Kandinsky, Münter and Horváth lived here and found inspiration in the picturesque landscape at the foothills of the Bavarian Alps with its romantic lakes and unique moorlands.
Situated only 45 minutes by car south of Munich, respectively 25 km north of Garmisch-Partenkirchen, Murnau is the centre of the holiday region around lake Staffelsee, a piece of "picture book" Bavaria, the Blue Country. Discover the original sites of Expressionist painting, traces of the "Blue Rider"(a group of painters), Kandinsky in the Münter-Haus (Known also as the "Russian House") and the Schloßmuseum with the worldwide biggest Münter collection. The pedestrian mall, lined with colourful listed houses, sets the scene for shopping with mountain view.
Many events take place in Murnau, such as the the music festival "grenzenlos", jazz days as well as theater performances and exhibitions. For both the business traveller attending a convention or a congress and the holidaymaker, Murnau is just the right place.