Counties & Cities
>
Allgäu - Bavarian Swabia Counties
>
Upper Allgäu County
>
Obermaiselstein
---
Hotels/Accommodation: no business registered - register your business - vicinity search
Food & Beverages: no business registered - register your business - vicinity search
Nightlife/Scene: no business registered - register your business - vicinity search
Shopping & more: no business registered - register your business - vicinity search
---
Obermaiselstein
Willkommen in Obermaiselstein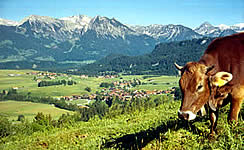 How to get there
By car: B 19, Sonthofen - Oberstdorf; Nearest railway station: Fischen; Bus access
Sports and Nature
Sturmannshöhle caves, 50 km hiking track network, partly-public indoor pool, tennis, badminton, paragliding school, 12 km cross-country ski track network, ski and hiking paradise, ski school, ski hire, curling.
Health and Recuperation
Generally relaxing, therapeutic climate, ideal for those who need to increase bodily resistance, improving stamina and performance, recovery and regeneration, above-average sunshine, out-patient healt cure, massage.
Culture and Tradition
Traditional customs and events, festivals, concerts, country theatre, slide shows, cattle drive, Mass on the mountain; doll exhibition.
Tourists' Specials
Family and children's holiday programme, guided hikes, sports tournaments (tennis, skittles, ski), craft courses, horse-drawn carriage rides, trips to places of interest.