Counties & Cities
>
Allgäu - Bavarian Swabia Counties
>
Donau-Ries County
>
Oettingen in Bavaria
---
Hotels/Accommodation: no business registered - register your business - vicinity search
Food & Beverages: no business registered - register your business - vicinity search
Nightlife/Scene: no business registered - register your business - vicinity search
Shopping & more: no business registered - register your business - vicinity search
---
Oettingen in Bavaria
Welcome to Oettingen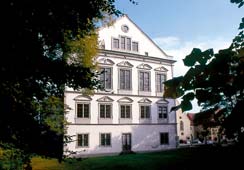 The romantic old residence town is conveniently situated at the meeting point of Bavarian Swabia, Franconia and Wurttemberg. Oettingen is a hospitable small town with distinctive gates and towers, beautiful natural surroundings and numerous leisure activities.
Oettingen offers eventful and affordable holidays. Peaceful relaxation as well as diversified activity and cheerfulness.
Set within lovely surroundings near the Romantic Road, the nature and tradition, romance, history as well as the interesting geology of the Ries area guarantee a special holiday experience for the whole family, for the young and old, for the active and for those looking for some relaxation.
Nature and Sport
Woernitz outdoor swimming pool, tennis, shooting range, horse stables, Bavarian curling.
Spa and health
Kneipp facilities.
Culture and tradition
Medieval cityscape with residence castle, churches, museum of local history, Medieval townscape with residence castle, churches, local history museum, ethological museum, historic market (every two years), "Jakobikirchweih" (church anniversary) (last weekend in July), market square festival, 7 commercial markets, Christmas market, music days (every two years).
What the county offers for tourists
Guided tours of the city, the museums and the castle, concerts in the residence (May - October), master courses of classical music, half-day and all-day offers for bus groups, cycle tours, hiking tours, carriage rides, package offers.