Counties & Cities
>
Upper Bavarian Counties
>
Garmisch-Partenkirchen County
>
Ohlstadt
---
Hotels/Accommodation: no business registered - register your business - vicinity search
Food & Beverages: no business registered - register your business - vicinity search
Nightlife/Scene: no business registered - register your business - vicinity search
Shopping & more: no business registered - register your business - vicinity search
---
Ohlstadt
Welcome to Ohlstadt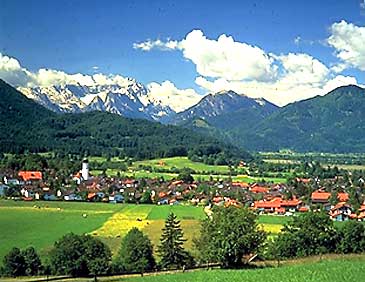 Ohlstadt is nestled into one the the most beautiful landscapes of Germany: with a view onto the Zugspitze mountain and at the fringe of the Murnau moorland. Visitors find relaxation, peace and quiet, nature, culture and opportunities for sports and activities at an altitude of 670 m.
Spend your vacations in a village that unites untouched nature, rural life and living traditions with outgoing, warm and hospitable people.
You can spend you time in Ohlstadt with activities like hiking, mountain climbing, cycling, swimming, tennis, cross-country skiing, gliding, fitness training and more, or just enjoying nature in its unspoilt beauty far from the turmoil of modern life.
Experience culture in the former sommer residence of painter Friedrich August von Kaulbach (1850 – 1920), which now houses the local history museum, and in Kaulbach's former studio which is now an art gallery. There, you can also follow the traces of the "Blauer Reiter" (Blue rider) artists group.
Many places of interest are within easy reach. Holidays in Ohlstadt are worthwhile all year round.