Counties & Cities
>
Upper Bavarian Counties
>
Rosenheim County
>
Prien on Lake Chiemsee
---
Hotels/Accommodation: no business registered - register your business - vicinity search
Food & Beverages: no business registered - register your business - vicinity search
Nightlife/Scene: no business registered - register your business - vicinity search
Shopping & more: no business registered - register your business - vicinity search
---
Prien on Lake Chiemsee (Prien am Chiemsee)
Welcome to Prien on Lake Chiemsee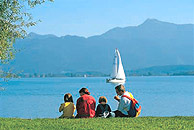 Prien – a special kind of summer resort
...and one of Upper Bavaria's most beautiful vacation destinations.
There is Lake Chiemsee with its famous islands, there are the mountains as a perfect scenery – there is sports, recreation, relaxation, nature, and arts. And of course, there is the option to spend your time catering for your health on a recreational stay. The variety of vacation choices is enourmous, and guaranteed to suit your individual desires.
Just the opportunities in the fields of wellness and health, of sports and activities are as numerous as they are diverse. Culture lovers, too, won't be disappointed, due to the substantial cultural offers. Pleasing to the eye are not only the works of Chiemsee Painters – exhibited at the City Hall gallery -, but also the 1000-years old monastery "Frauenchiemsee" and the fairy tale castle of King Ludwig II on Herreninsel island.