Counties & Cities
>
Upper Bavarian Counties
>
Traunstein County
>
Reit im Winkl
---
Hotels/Accommodation: no business registered - register your business - vicinity search
Food & Beverages: no business registered - register your business - vicinity search
Nightlife/Scene: no business registered - register your business - vicinity search
Shopping & more: no business registered - register your business - vicinity search
---
Reit im Winkl
Welcome to Reit im Winkl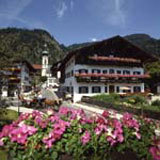 The mountain and skiing village of Reit im Winkl is one of the top climatic health resorts and hiking grounds. As snow-sure as it is snow-rich, it is known far beyond the limits of Bavaria. At an altitude of 695 meters, it is located in the middle of the Bavarian Alps. The farms here have been well-kept over the centuries; a quite unique atmosphere is added by nature that is still unspoilt.
A stay at Reit im Winkl is rewarded with pure nature, quiet places, cultural and culinary highlights, recreation, wellness, and sport options pretty much around the clock. The range of leisure facilities is unsurpassed: From Nordic Walking, golf, guided hikes and mountain bike tours, miniature golf, and outdoor chess to the many obligatory cycling and hiking paths, the outdoor pool and the beach volleyball court, this place is a dream for sportive guests.
The offerings in the field of culture are just as diversified: Folk and folkloric music, concerts at the music pavilion, operettas, musicals, live shows of world-famous musicians, folkloric evenings, popular theater, and of course much more are just the basics of Reit im Winkel's cultural program. A welcome evening and colorful costume parades introduce you to Bavarian tradition and vitality. The locals have always known how to celebrate; they are proud of their traditions and make sure to keep them alive. You, too, are cordially invited to sing and dance, to join the parades and parties.