Counties & Cities
>
Allgäu - Bavarian Swabia Counties
>
Upper Allgäu County
>
Rettenberg
---
Hotels/Accommodation: no business registered - register your business - vicinity search
Food & Beverages: no business registered - register your business - vicinity search
Nightlife/Scene: no business registered - register your business - vicinity search
Shopping & more: no business registered - register your business - vicinity search
---
Rettenberg
Welcome to Rettenberg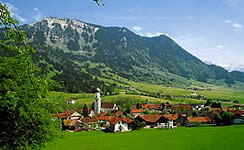 How to get there
By car: A 7 to Allgäu motorway junction, BAB 980, Durach/Sulzberg exit, 20 km to Rettenberg; Nearest railway station: Immenstadt; Bus access
Sports and Nature
Well-developed hiking track network, Oberallgäu "Lustiger Wanderweg", cycling, nature trail, hang-gliding, 40 km cross-country ski tracks, 20 km downhill slopes, chair lift, drag lifts, ski school, floodlit sledding.
Culture and Tradition
Traditional customs and events, various festivals, cattle drive, mountain fairs.
Tourists' Specials
Trips to places of interest, mountain and flower trails, hiking with the forester, Rocky Mountain treks, kite flying, cycle hire, heated outdoor pool with children's programme, pony rides, children's meeting place, discovery rides through the district, hang-gliding, folk evenings, minigolf, horse-drawn carriage rides, tennis, table tennis, hiking awards, cheese dairy, brewery, beer seminars, cross-country ski tracks, cross-country ski hire, sledge hire, ski lifts, ski hire, ski school, snowboard, halfpipe, floodlit sledding.