Vacation Regions
>
Allgaeu / Bavarian Swabia
>
Allgaeu

Vacation in the Allgäu - Region of Infinite Beauty

This beautiful landscape forms a link between all those who see and enjoy it. Nature does not keep to borders and barriers invented by man. It shares its beauty generously between different countries and regions.
And a real-life example of this? The Allgäu Alps!
Nature itself formed the Allgäu to be a country of boundless beauty. From the glittering waters of Lake Constance to the rolling foothills and up to the majesty of the Southern Alps between Widderstein and Geißhorn.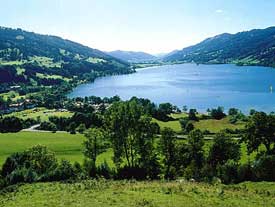 Sights fit for a king towards Neuschwanstein in the East and the highest views of all over to the Tannheimer Valley. Dream landscapes before, nearby and in the very mountains of the Allgäu Alps. Years of established culture wherever you look, full of the vitality of regional customs and the traditional way of life. The fascinating similarities and binding variety of the region are loved and appreciated by both those who live there and the guests they love to entertain.
Enjoy simply being yourself - freed from the burdens of everyday life.
In the Allgäu, this wonderful sensation of simply being allowed to "be" was known for a long time before health, fitness and the benefits of exercise became the general subject of conversation.
To be more precise, it became known with Sebastian Kneipp, the weaver's son, priest and "Water Doctor" from the Allgäu. Heath businesses of this region understand his timeless five-pillar therapy to be the original precursor of today's wellness and spa movement and use it in very many different and contemporary ways. Within the scope of Kneipp treatments, they offer items specific to the region in addition to the pure water on which Kneipp therapy was originally based. Mineral-rich whey, soft as silk to the touch, and also scented meadow hay, take their place alongside far-eastern relaxation techniques. Active phases of movement and extended periods of pampering in a relaxed atmosphere fulfil your every desire and need.
The aim is to be even better than the illustrious forbear, Sebastian Kneipp. With the controlled quality of "WellVital" and "Viabono" treatment programmes. Wellbeing for body and soul is to be found everywhere in rich abundance and close at hand: close to nature in Kneipp and herbal country retreats, exclusively in hotels, spa and beauty resorts and in unconventional form within the well-known five-star camp site facilities.