Counties & Cities
>
Upper Bavarian Counties
>
Garmisch-Partenkirchen County
>
Unterammergau
---
Hotels/Accommodation: bed and breakfast Gästehaus - search more business
Food & Beverages: Gasthof zur Sonne - search more business
Nightlife/Scene: no business registered - register your business - vicinity search
Shopping & more: no business registered - register your business - vicinity search
---
Unterammergau
Welcome to Unterammergau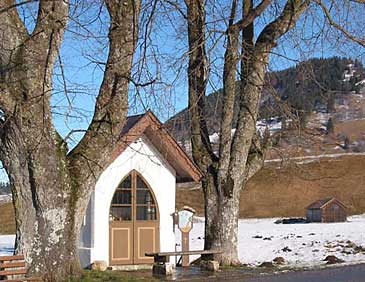 Idyllic landscape amidst cultural highlights.
Unterammergau used to be a grindstone makers' village. Now it is an idyllic, hospitable place to spend your vacations whether you want to be active or relax.
The village was awarded the title "Kinderland" along with several hosts, restaurants and the ski and skischool service.
Unterammergau is situated at the foot of Pürschling mountain (1564m) with its manyfold ski runs, cycling and hiking trails.
There are plenty of recreational offerings from summer sledding to snowshoeing. You will find ski runs and a ski school as well as cross-country ski runs. In January, Unterammergau is the venue of the Red Bull luge world cup.
There are many summer and winter hiking trails admidst lovely landscape. The village's rural character is kept by agricultural and cultural tradition.
Popular highlights are the Kappl Pilgramage Church, the Leonhardiritt (a horse prosession in honour of St. Leonhard on the last weekend in October) and the Schleifmühlenklamm (Schleifmühlen Gorge) with its history trail (grindstone making).